I've finally been able to decompress a little and sit down for some blogging action.
The past week the Purdue Cycling club went down to Mountainburg Arkansas for a week of relaxation, tanning, and a boat load of riding. The first weekend though was spent racing, not in the collegiate conference but USAC. I finally got a chance to kit-up with some brand spanking new Panther threads and race for some cash money. Also, since the race took place in Arkansas I was able to meet part of our Southern contingent of the team which consisted of Kris, Noah, and Wade.
Greg, Derek and I had done the race last year to come up a little short of the pitchfork (the prize for winning), Greg getting out sprinted at the finish by Brian Jensen. So it was time to win some quality farm equipment.
The 80 mile race, which contains one super steep mile long climb called Hell's Kitchen, started just like it did the year before, really really slow. With only 30 some riders in the field no one really wanted to drill it for 3 hours. So we rode along pretty leisurely for the first lap, taking a pee brake and chatting it up.
The second time up Hell's Kitchen climb Steve Tilford attacked over the top, luckily I was chillin on his wheel when he went and was able to tag along. Once Tilford's teammate, Brian Jensen, joined us the break was really formed and started moving. The pack came within seconds of catching us at one point, but we managed to pull away again, but this time with yet another of Tilfords and Jenson's teammates. Going into the last lap there were five in the breakaway, three from Trek-Tradewind (Tilfords team) Joseph Schmalz of the Mercy team, and me.
The group made it up the final climb in one piece, then the Tradewind team started attacking. The Mercy guy and I were on top of it for a while. I was following Jensen and Schmalz followed Tilford. At one point Tilford attacked and I expected Schmalz to follow him but I guess he was feeling pretty fried. In retrospect I should have just sucked it up and followed him, but hindsight is always 20/20. We sort of looked at each other for a bit, Jensen followed every one of our attacks we made to bridge to Tilford. We started working together a bit but it was too little too late. I ended up chasing down Tilford in the end, but never made it. I was fried and Jensen got around me in the sprint.
So no pitch fork, but 3rd's not bad for the first USAC race of the year. Tilford also said our kits looked sweet in his
blog
, which is the real victory.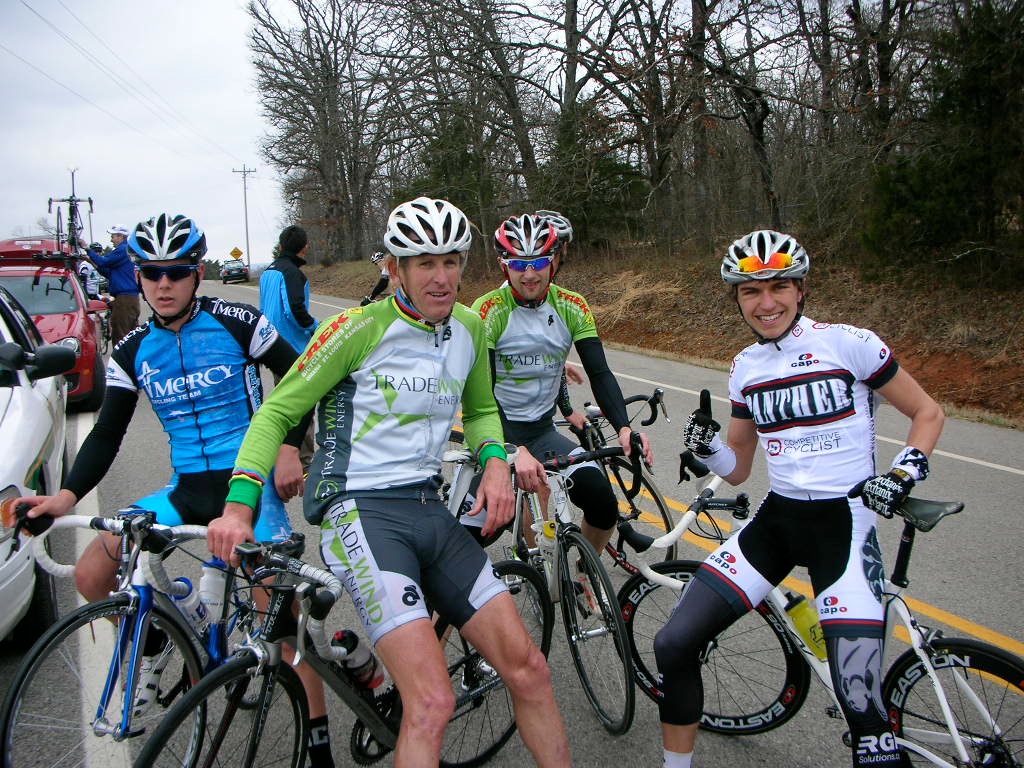 So then it was on to some good ol' Arkansas riding, full of hills for your threshold work, and crazy dogs to help your sprint.
We did Greg's patented 111 mile Apocoly-epic loop on Tuesday. In all we averaged 18.1 mph for the day, 8400 feet of climbing, at least 10 miles of some pretty ugly dirt roads….and a stream crossing:
The coolest part was the road that went through the Ozark national forest, which had two climbs that nearly climbed 2000 feet each:
Compared to this, the rest of the week was pretty tame: even Mt. Nebo seemed short. Other than that it was a lot of hot tubbing and one icy swim in Lake Fort Smith.
It was sad to leave, but we had more racing to do up in St. Louis at the Lindenwood collegiate race. The road race was four laps of a 19 mile loop with a few decent climbs in the first five miles. It was also pissing down rain for our race. We had a particularly small field this weekend, which, when combined with the poor conditions, made for some really aggressive racing.
By the second lap a big field split had occurred and I was on the wrong side of it. But so was Ben Damhoff, current points leader, locomotive, and the dude everyone calls 'spider monkey' for some reason. He spent most of that second lap chasing down the split. When it all came back together I followed a move from Zach McBride of Marion and we managed to get away with Nick Chevalley of Lindenwood. Since Lindsey Wilson was on spring break, we had both the big teams in the break. Zach seemed like he wasn't quite on form yet and we dropped him going into the last lap.
So we were down to two. Nick, was pulling me along like a locomotive engine pulls a load of coal, which is how my legs were feeling after Arkansas. Thankfully neither of us were feeling like getting lonely so we rode in together to sprint it out. I was worried my sprinting legs had been asleep the past 6 months, but apparently they were a few fast twitch guys still limping along:
Sunday's crit was a really cool course, but with more shitty weather. Not so good a day for me either. The winning break got away in the first five minutes of racing, I realized a little too late and tried to bridge across a 20 second gap pretty much solo. I got really really close, then blew up and headed back to the pack, where Naveen started throwing in huge counter attacks.
From then on out I was practicing my tail-gunning skills in the rain. If I were paying a little more attention I could have probably gotten across with a two man group that also lapped later in the race, but I was pretty freaking worn out by this point and just cruised in for the finish.
So now it's back to school and reality.