In the last post I did I outlined the benefits of the 'Super-Tuck'. Now onto it's problems. Like I said earlier looking at the benefits only takes into account one side of the dynamic bicycle system: Aerodynamics/Power. The second type of system you have to look at, which is the reason why you're a freaking idiot if you use this position a lot, is control systems.
Every engineer is familiar with the following (unless you're an Industrial Engineer *cough* *black sheep* *cough*)

This is a mass/spring/damper system. It's a simplified version of A LOT of real world applications. Enginineers use this simplified model to figure out how to make cruise control, autopilots, heaters, generally anything where you're trying to help control the behavior of a physical/electrical system. It's essentially a mass connected by a spring and damper to some either stationary or moving anchor point.
If you apply this system to a bike/rider and your chubby ass is the block (mass – m), then your legs and arms act as both the spring and damper. When you go through a turn/rough patch of road, your arms and legs act to smooth out any bumps you ride over and the diagram becomes something more closely resembling this:
You can obviously get infinitely more complicated than this but the math and physics of the simple mass/spring/damper system remains. This type of modeling is very familiar to mechanical engineers due to its obvious applications to motor vehicles.
Now the problem with the top tube surfing position is that since you're resting your ass on the top tube you completely you not only increase your spring stiffness by eliminating any bump absorption of your arms and legs, but you also GREATLY under-damp the system.
The example below shows a block with gravity acting on it with a starting position, the blocks are dropped and eventually achieve equilibrium.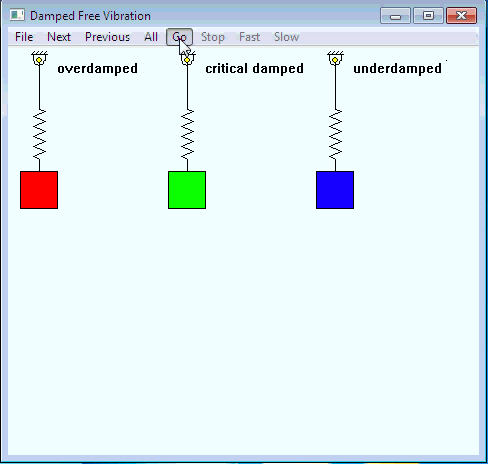 The thing to notice about the under-damped system is how dramatic the OVERSHOOT is (that is the amount the blue block overshoots it's equilibrium point). Anyone who's tuned MTB suspension will begin to see the correlation now. When you setup a MTB fork and don't have any damping, the fork will absorb the bump…..but then translate that displacement further up to your hands. This is great if you're doing dirt jumps or something….not so great in the 'Super-Tuck'.
In short, if you hit an unexpected bump in the road (cuz your foolishly super-tucking in the pack) not just your wheel/tire but everything will now go flying in the air.
This same effect will be seen in your steering system, albeit in a much more complected manner. However the end result will be the same: no ability to quickly turn to avoid hazard and any outside input to your steering will send you wildly off course due to your inability to correct the course.
Just watch the dudes at Rio tackle the technical descent into the finish:
http://www.nbcolympics.com/video/cycling-mens-road-race-highlights
No super-tuck-ing there.